The latest and greatest research and commentary from the field.
The last few months have seen a flurry of research published into under-explored corners of the field. Highlights include ground-breaking new research into high-potential entrepreneurship from MIT, an in-depth look at entrepreneurial accelerators from Brookings, new evidence on the poor state of competition in the U.S. economy from The Economist and others, and a look at the geography of venture capital from zip codes to global cities from Richard Florida. You'll find additional entrepreneurship commentary, other good reads, and noteworthy books below as well.
---
In Focus:  New Research on High-Potential Entrepreneurship
---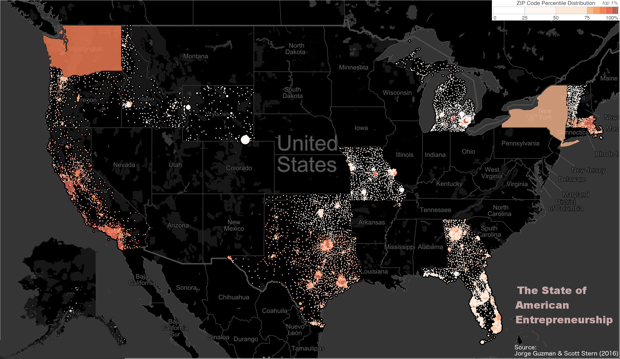 A New View of the Skew: A Quantitative Assessment of the Quality of American Entrepreneurship
Catherine Fazio, Jorge Guzman, Fiona Murray, and Scott Stern, Massachusetts Institute of Technology
February 2016
This important new research advances a novel methodology for identifying start-ups with a high potential for rapid growth. It finds that, while the quality and potential of U.S. entrepreneurship remains high and rising post-recession, promising companies are increasingly less likely to become successful ones. It suggests that policymakers target their efforts on boosting the quality of entrepreneurship and the success rate of high-potential firms by focusing on regional ecosystems, rather than the sheer volume of new firm starts. Furthermore, it finds that the nature of entrepreneurship differs fundamentally across the United States.
For further commentary on the research:
The Next Amazon (or Apple, or GE) Is Probably Failing Right Now
Ben Casselman, FiveThirtyEight
March 3, 2016
The Crisis in American Entrepreneurship
Jeffrey Sparshott, The Wall Street Journal's Real Time Economics
March 7, 2016
The U.S. Startup Economy Is in Both Better and Worse Shape than We Thought
Walter Frick, Harvard Business Review
March 11, 2016
Access the underlying working papers:
The State of American Entrepreneurship: New Estimates of the Quantity and Quality of Entrepreneurship for 15 U.S. States, 1988-2014
Jorge Guzman and Scott Stern, National Bureau of Economic Research
March 2016
Nowcasting and Placecasting Entrepreneurial Quality and Performance
Jorge Guzman and Scott Stern, National Bureau of Economic Research
February 2015
---
In Focus: Accelerators
---
Accelerating Growth: Startup Accelerator Programs in the United States
Ian Hathaway, Brookings Institution
February 2016
With startup accelerators proliferating in name and number, the author takes stock of what accelerators actually do and the unique role they perform in entrepreneurial ecosystems. The number of accelerators has exploded post-recession and now 54 metro areas claim one. Only leading accelerators contribute meaningfully to regional economic growth and development however. The author concludes with best practices.
See also:
What Startup Accelerators Really Do
Ian Hathaway, Harvard Business Review
March 1, 2016
2016 Accelerator Rankings
Yael Hochberg, Susan Cohen, and Daniel Fehder, Seed Accelerator Rankings Project
The rankings project assesses the relative performance of accelerator programs along multiple dimensions that may be important to entrepreneurs. It is intended to serve as a resource for entrepreneurs considering going through an accelerator as well as encourage more research into the world of accelerators.
Accelerators and the Regional Supply of Venture Capital Investment
David Fehder and Yael Hochberg, Massachusetts Institute of Technology and Rice University
September 2014
Analyzing 59 accelerators across 38 metro areas, the authors find that the presence of an accelerator does appear to positively benefit a regional entrepreneurial ecosystem. The establishment of an accelerator is associated with more seed, venture, and other early stage financing for local companies—regardless of their participation in the accelerator.
---
In Focus: Competition
---
Too Much of a Good Thing
The Economist
March 26, 2016
The size and more importantly persistence of domestic profits in Corporate America throws up a red flag. The competitive forces that keep the economy dynamic and healthy—and economic surpluses broadly shared—have broken down. Recent waves of consolidation promise to weaken competition and boost profits further. According to The Economist's analysis, one-third of U.S. economic activity takes place in concentrated industries and another one-tenth in oligopolistic ones. The political discourse presently focuses on protectionist solutions, but what America really needs is a bold injection of competition.
The 2016 Economic Report of the President
Council of Economic Advisors
February 2016
The latest report from the President's Council of Economic Advisors dives deep into the relationship between rent-seeking and inequality. CEA calls for policies to reduce market concentration and curtail rent-seeking behavior as integral for promoting inclusive growth. The authors also associate declines in new business formation, and thus competition, with falling rates of innovation and productivity growth economy-wide.
The Real Reason Middle America Should Be Angry
Brian Feldman, Washington Monthly
Spring 2016
The author showcases the struggles of second-tier cities to survive and grow in an aging, consolidating, and increasingly anti-competitive U.S. marketplace.
Corporate America Hasn't Been Disrupted
Ben Casselman, FiveThirtyEight
August 8, 2014
"By a wide range of measures, the advantages of incumbency in corporate America have never been greater," the author writes, reflecting on a large body of new research that suggests structural shifts in the economy have made it harder for startups to take on established companies.
License to Compete: Occupational Licensing and the State Action Doctrine
U.S. Senate Committee on the Judiciary Subcommittee on Antitrust, Competition Policy, and Consumer Rights
February 2, 2016
Read the testimonies:
Jason Furman (Council of Economic Advisors) weighs the costs and benefits of occupational licensing and recommends steps for reform.
Robert Johnson (Institute for Justice) argues the case against occupational licensing on behalf of workers, consumers, and entrepreneurs.
Dr. Morris Kleiner (University of Minnesota) advocates for certification over licensing.
William Main (Segs in the City) compares licensing requirements for tour guides across jurisdictions.
Maureen Ohlhausen (Federal Trade Commission) explores the anti-competitive impacts of licensing restrictions and the federalist quandaries encountered in this state-regulated realm.
Misha Tseytlin (Solicitor General of Wisconsin) discusses the implications and ambiguities of a recent Supreme Court Decision, North Carolina State Board of Dental Examiners v. Federal Trade Commission.
The Rent-Seeking Is Too Damn High
Ben Casselman, FiveThirtyEight
February 5, 2016
This article reviews much of the recent literature on the increase in occupational licensing and its potential impact on entrepreneurship, productivity, mobility (economic, geographic, and labor), and more. The author points out than an increase in this particular type of rent-seeking has been accompanied by a broader rise in rent-seeking economy-wide, analyses show.
---
In Focus: The Geography of Venture Capital
---
Spiky Venture Capital: The Geography of Venture Capital Investment by Metro and Zip Code
Richard Florida and Karen King, Martin Prosperity Institute
February 2016
Venture capital (VC) remains highly concentrated in the United States, with the top 10 metro areas accounting for nearly three-quarters of all VC investment. It is even more concentrated across zip codes: Only 4 percent of U.S. zip codes receive any VC investment, and the top 50 zip codes alone account for half of it. VC flows are not only associated with high-tech workers but also larger, denser, more affluent, more diverse, and more highly-educated places. VC is also associated with greater wage inequality and greater economic segregation.
Rise of the Global Startup City: The Geography of Venture Capital Investment in Cities and Metros across the Globe
Richard Florida and Karen King, Martin Prosperity Institute
January 2016
The top 10 global metro areas account for more than half of all venture capital (VC) investment worldwide. Outside the United States, London, Beijing, Toronto, Shanghai, and Mumbai are the biggest hotspots.
Yearbook 2016
National Venture Capital Association
March 2016
U.S. venture capital (VC) investment climbed to its highest level since 2000 in 2015, to $59.1 billion. California firms continue to manage 55 percent of capital. New commitments to venture funds fell slightly over the year, to $28.2 billion. VC firms invested in companies located across 46 states plus DC. The share of all U.S. VC going to the top three states increased to 78 percent.
---
In Focus: Entrepreneurship
---
The Missing Millennial Entrepreneurs
Daniel Wilmoth, Small Business Administration
February 2016
Emerging trends suggest that, contrary to popular stereotypes, millennials may be the least entrepreneurial generation in recent history. At age 30, less than 4 percent of millennials reported self-employment as their primary job, compared to 5.4 percent of Generation Xers and 6.7 percent of Baby Boomers at that age. The trend pre-dates the recession.
The Missing Startup Recovery
Jeffrey Sparshott, The Wall Street Journal's Real Time Economics
January 27, 2016
The author analyzes the latest BLS data to find that the number of establishment births fell from the first to the second quarter of 2015. The share of gross job gains attributable to new private sector establishments remains near post-recession lows, at 11 percent.
Study: Immigrants Founded 51% of U.S. Billion-Dollar Startups
Yoree Koh, The Wall Street Journal
March 17, 2016
Over half of the current crop of U.S. startups valued at $1 billion or more were founded by immigrants, a new report from the National Foundation for American Policy finds.
Can Social Insurance Unlock Entrepreneurial Opportunities?
Ewing Marion Kauffman Foundation
March 2016
This brief puts forward a number of policy prescriptions for reducing the risk of entrepreneurship as a career choice for individuals, including strengthening social insurance programs, offering family-friendly policies for childcare, and reforming unemployment insurance.
---
Other Good Reads
---
How America Is Putting Itself Back Together
James Fallows, The Atlantic
March 2016
The author tours the United States and finds unexpected pockets of entrepreneurial dynamism that leave him cautiously optimistic about the future of places like Duluth, MN, in an age of hyped-up clustering on the coasts. "America thinks of itself as having a few islands of tech creativity; I now see it as an archipelago of startups."
Understanding Declining Fluidity in the U.S. Labor Market
Raven Molloy, et al., Brookings Papers on Economic Activity
March 2016
The authors document a clear and long-term downward trend in labor market fluidity across states and industries. They find that the decline is not related to the changing industrial composition of the economy, is only partly explained by demographics, and is unlikely to be attributable to improved matching. They recommend exploring changes in the worker-firm relationship, changes to firm size and age, and changes in social trust for possible explanations.
---
Books
---
The Rise and Fall of American Growth: The U.S. Standard of Living Since the Civil War
Robert Gordon, Princeton University Press
2016
Gordon takes on the techno-optimists to argue that the productivity dividends of new technological innovations are not mismeasured but simply smaller than their proponents assert. The pace of innovation has slowed and, in the face of considerable headwinds, will continue to. Tackling those headwinds—rising inequality, stagnating education, an aging population, and rising debt—will be critical for ensuring that American living standards continue to rise.
The Smartest Places on Earth
Antoine van Agtmael and Fred Bakker, Public Affairs
2016
The authors visit overlooked corners of Rust Belts in Europe and the United States to find innovation surging back to life. Thanks to a combination of forces—visionary leadership, engaged universities, dynamic start-ups, and committed, globally connected and competitive legacy companies—the authors expect old industrial heartlands to swap out yesterday's moniker for a new one: Brain Belts.
The Geography of Genius
Eric Weiner, Simon and Schuster
2016
From Athens to Hangzhou, Florence to Calcutta, and Vienna to Silicon Valley, the author explores how and why time and place have conspired to unleash creative genius throughout human history.
The Third Wave: An Entrepreneur's Vision of the Future
Steve Case
2016
Case argues that the next wave of the Internet is dawning. The first saw its creation, the second saw its expansion into social realms, and the third will see entrepreneurs take the internet revolution into our daily lives, transforming sectors such as health, education, transportation, and energy — demanding adjustment, reinvention, and re-imagination from all of society's stakeholders.